Sight
The enormity of the proposed project is beyond the imagination of most of us. Think of nearly 200 towers in the Towns of Cohocton and Prattsburgh alone, each one weighing over 280 tons, not counting its massive concrete base, and rising as tall as the hills themselves. Here's a picture provided by the developer of one tower on Lent Hill with the village of Cohocton below: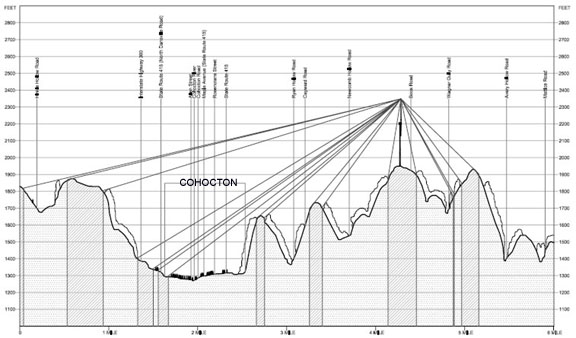 How big are these things, anyway?
They're big enough to be easily seen for over 5 miles in any direction. It will take major culvert and intersection work on our expressway exits, highways, and back roads just to move the enormous volumes of concrete and huge turbine blades, nacelles, and tower parts through town and up onto the hills. Each one is taller than the length of a city block or a football field, taller than the Statue of Liberty, taller than any existing structure in the entire Southern Tier, and taller than all but the Xerox tower in downtown Rochester.
How many will there be?
We get expanding numbers. People were shown 20 much smaller towers in Fenner and led to believe that things would be similar here. However, "Phase I" originally proposed for Cohocton called for more than twice as many larger units when "Phase II" was just being talked about, and the implication in UPC's April 2006 letter was that it would bring the number up to 62. We haven't heard about "Phase III" or "Phase IV" yet, and hopefully we never will. The Supplemental DEIS submitted by UPC in November 2006 proposes 36 much larger 2.5 MW units on Lent and Pine Hills in Phase I and another 16 of these units on Dutch Hill in Phase II. However, the same wind developers have been working along the eastern border of the Town of Cohocton in Town of Prattsburgh where they have proposed over 100 sites and claim nearly that many signed leases already. Residents of Springwater are wrestling with an initiative for their hills, and Wayland is being investigated as we speak. Throughout the entire Finger Lakes, Town by Town, wind developers are quietly and aggressively pursuing the financial windfall our legislators have precipitated on our region. One current analysis estimates that 516 turbines are currently being proposed by various developers in Steuben and Yates Counties alone.
What will they look like?
The pictures provided by the developer in April 2006 are deceptively benign, making the towers look almost graceful, in an alien kind of way. Things like this get pretty tiresome to look at after the novelty wears off, however, especially if they're everywhere. It might be kind of fun to see them in Fenner's fields. Unique and interesting. How about hundreds of them that you're not just visiting but have to live with all the time. They're everywhere, looming overhead, around corners, towering over the tops of the highest trees in the forests, dwarfing everything around them. You used to be on top of the world in your tractor, looking out over a view that went in all directions, but now you're just a speck on the ground under the towers. They're always there. They never go away.
On peaceful mornings and evenings when you're not working and always used to enjoy the sunlight peeking into your windows and drifting across your porch, things are different now. The blades interrupt the sun almost every second, flicker, flicker, flicker, 17 rotations a minute for each of the 3 blades making the sunlight flicker 51 times a minute in a steady, monotonous pattern. It's only 20 or 30 hours a year, but those hours used to be broken into precious 20 minute jewels of time scattered through the year, and now they're worse than gone, they're spoiled, polluted.
But it's at night that the invaders really show up with their red aircraft warning lights on the tip of each blade, rotating, flashing, blinking, tracing circles in the dark sky. They're in view of your house, flashing in your windows. Everywhere you look across the hills they're clustered and flashing. Dozens of them everywhere as you drive down 390 and up the road toward home, stealing away the peaceful setting of the town and countryside you used to know so well. No mistaking it, now you live in and under an industrial power plant. Bob Dylan sang it well:
"Don't it always go to show, you'll never know what you got till it's gone?
They paved paradise, they put up a parking lot."